On 2021-12-31 17:01 (-4), Bald Eagle wrote:


> 




> Adam Savage's One Day Builds: Rhombic Dodecahedron with Matt Parker




> 




> https://www.youtube.com/watch?v=65r_1TzJXaQ




> 




> 




> It's not POV-Ray, but you can see where this is going....



It's a shame the rhombic dodecahedron doesn't get more attention; I
think it's a beautiful shape.  I first learned about it from a book of
crystallography I read when I was 11 years old.

This is a scene I started in 2003, and still revisit occasionally.  The
shape at the right front is a rhombic dodecahedron.  Image
regular-m3.jpg is the scene as of 2006, though it's not substantially
different from the original.  Image regular-new-m11.jpg is as of last April.


Attachments:
Download 'regular-m3.jpg' (49 KB) Download 'regular-new-m11.jpg' (57 KB)


Preview of image 'regular-m3.jpg'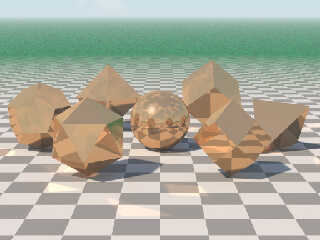 Preview of image 'regular-new-m11.jpg'