Just in time to say happy 30th anniversary, POV-Ray!  Not just one, but
2 reflective spheres!  Not just one, but 2 checkered planes!

This is a reboot of a scene I started for the 25th anniversary, but was
never quite satisfied with.  In the intervening 5 years, I've forgotten
what it was that I wasn't satisfied with, so I decided to gather the
parts of the old scene and post a new version while it is still 2021.
New in this scene are finish-level Fresnel and a glossy floor that I
added to my render rig earlier this year.

This scene has 4 unfinished elements I had hoped to complete by the end
of 2021: the hand plane, the lamp, the render rig (which is held up by
the unfinished lamp), and the wood texture.  But other than the lamp,
which is just a place holder, they are sufficient for this scene.


Attachments:
Download 'povray_30th_aniversary.jpg' (242 KB) Download 'povray_30th_aniversary-1080.jpg' (361 KB)


Preview of image 'povray_30th_aniversary.jpg'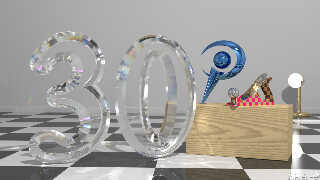 Preview of image 'povray_30th_aniversary-1080.jpg'