On 2021-02-10 6:58 PM (-4), Cousin Ricky wrote:


> I figured out how to model a flexible lamp neck using an isosurface.  [SNIP]




> 




> Now all I have to do is figure out how to aim it at a point_at.  The 




> trig is not straightforward because the light source is not at the tip 




> of the neck.



I created a normal for draft or low LOD renders.  Compare the attached 
images to the neck of the lamp I posted in the thread "Another CSG scene":

   https://news.povray.org/web.517a15b185775d2078641e0c0%40news.povray.org

Notice that the texture does not spiral.  I had created that lamp for my 
3rd generation prefab render rig, and it has a few other deficiencies: 
it depends on a private include file; the light bulb surface brightness 
is too low; and to make the math easier, I let the light source location 
determine the length of the neck instead of the other way around.  I'm 
now working on a more general lamp macro.


Attachments:
Download 'flexed_normal1.jpg' (45 KB) Download 'flexed_normal2.jpg' (44 KB)


Preview of image 'flexed_normal1.jpg'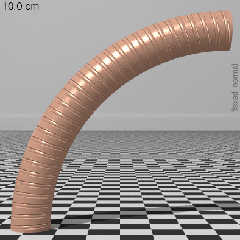 Preview of image 'flexed_normal2.jpg'