While exploring the trade-offs of double_illuminate a couple of years 
ago, I noticed that the patio in my pre-fab render rig did not have an 
entrance!  While this was not a problem for a spry, athletic Daz model, 
a Blender model in a wheelchair or a Poser model with osteoporosis would 
have trouble getting in for a sitting.

I have now rectified this oversight, hopefully to the satisfaction of 
the accessibility authorities.  The brick walls are rebuilt with an 
opening and a ramp.

Image non-accessible.jpg is from 2 years ago.  Image accessible-d.jpg 
has the re-bricked wall, and you can see the opening reflected in the 
right side of the chrome sphere.  Image accessible.jpg has the camera 
positioned for a better look at the entrance.


Attachments:
Download 'non-accessible.jpg' (103 KB) Download 'accessible-d.jpg' (105 KB) Download 'accessible.jpg' (106 KB)


Preview of image 'non-accessible.jpg'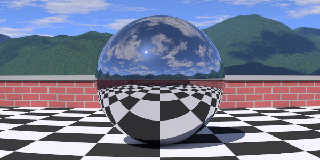 Preview of image 'accessible-d.jpg'

Preview of image 'accessible.jpg'