I have not been feeling creative lately, so here is a scene I wrote in
2004.  I was testing caustics off the mirror and the glow around the
light bulb.  The small image is the original render using POV-Ray 3.5.
The large image is a re-render using POV-Ray 3.7.

For some reason, the mirror caustics aren't as pronounced in the v3.7
render, so I reduced the photon spacing to 1/4 of before, increasing the
number of photons 16 times.  Strangely, the render time was reduced by
more than half!


Attachments:
Download 'bulb-by35.jpg' (29 KB) Download 'bulb-by37.jpg' (104 KB)


Preview of image 'bulb-by35.jpg'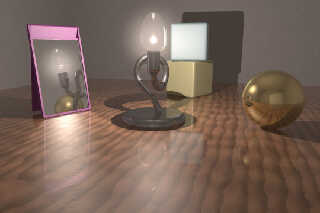 Preview of image 'bulb-by37.jpg'