Every time I create a CGSphere, I have to worry about the environment.
What goes beyond the ground plane to contribute reflections or diffuse
lighting?  Is the scene indoors or outdoors?  Are there walls?  Windows?
 What colors are the Sun and sky?

Well, I finally just created an include file that takes care of the
grunt work by placing the POV-Ray CGSphere setup within my ShapeOfTheDay
environment.  All I have to worry about is the composition.

Image cgsotd-poc.jpg is a proof-of-concept that I used as a template to
create the include file.  Image cgsotd-montage.jpg uses the include file
with various camera setups.  The spheres labeled "DOF" were rendered
with POV-Ray's built-in focal blur.  The spheres labeled "Sheared" were
rendered with a camera that can be sheared with respect to the focal
plane, and those that show depth-of-field are stacked animation frames.

I used a modified version of CGSphere.inc with the camera settings from
CGSphere.pov.  Unfortunately, the CGSphere website is no longer active,
I don't know of any alternate download site for these two files, and I
don't know that I have the right to post them.  Is Trevor G Quayle still
around?  He seems to have been involved with porting CGSphere to POV-Ray.


Attachments:
Download 'cgsotd-poc.jpg' (93 KB) Download 'cgsotd-montage.jpg' (895 KB)


Preview of image 'cgsotd-poc.jpg'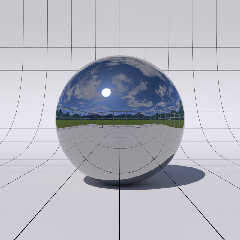 Preview of image 'cgsotd-montage.jpg'