J. Turner Whitted's 1979 RSOCP, with red and yellow checks and glass and
metal spheres, though a breakthrough in computer graphics at the time,
looks antiquated by today's ray tracing standards.  In fact, it looks
kinda like my first year renders.

I don't remember where I first saw this motif.  One possibility that
came to mind was Fabian Mosen's submission to the IRTC for
November-December 1997; but his image lacks the glass sphere, and my
early interpretations in 2004 did have a glass object.  It seems I had
seen this motif elsewhere, and only remembered the IRTC submission due
to the clever setting.  (And also, I cannot unsee the child's toes.)

But I figure it's time for an update, this time with more realistic
glass and metal, and with a prefab environment containing many of the
lessons I've learned over the past 19 years.  The image cliche-ry.jpg is
my 2004 interpretation; at the time, I thought the 1979 image had a
lens, probably because refraction through a solid sphere would not look
that way.  But a hollow glass sphere, which I used in the updated scene,
matches the 1979 image closely.


Attachments:
Download 'jtwhitted-sotd-finite.jpg' (167 KB) Download 'cliche-ry.jpg' (47 KB)


Preview of image 'jtwhitted-sotd-finite.jpg'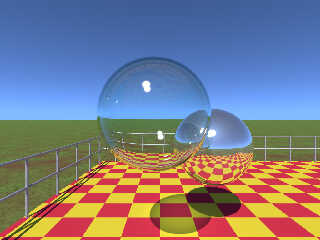 Preview of image 'cliche-ry.jpg'