On 2019-07-12 4:45 PM (-4), Jörg "Yadgar" Bleimann wrote:


> 




> The original look of this image is possibly no more reconstructable, as 




> the script was originally written for MegaPOV 0.6; however, thanks to 




> Jerôme Grimbert's advice, I replaced the original disp_nelems by 




> dispersion_samples to render it with POV-Ray 3.7!



Lack of SMP support is reason enough never to try chromatic dispersion 
with any version of POV-Ray prior to 3.7, unless you're that serious 
about (and that patient for) archaeology.  But these images show clearly 
another reason why I don't mess with those older versions for 
dispersion: render quality.

The upper left of each image shows the POV version; the upper right 
shows the IOR and dispersion values used.  (1.2 and 1.1 are Daren Scot 
Wilson's values; 1.52 and 1.01 are glass values.)  The number on each 
sphere is the dispersion_samples value.  POV-Ray 3.6 seems to render 
with 2 too few samples!  In truth, the samples are there; it's just that 
the wavelengths are at the edge of human sensitivity, and the 3.5/3.6 
algorithm doesn't compensate for this.  The result is darker coloring 
and off hues.

I don't have access to MegaPOV 0.6 to know whether it had these bugs, 
but I don't suppose it had SMP support either.

POV-Ray 3.5 seems no worse than 3.6 for this particular scene, but there 
are scenes where 3.5 yields utterly horrible results.  I do not know 
precisely what triggers 3.5 bugs, and they even seem to be compiler or 
operating system dependent.  But at this point, I personally have no 
reason to worry about 3.5.


Attachments:
Download 'dispersion_spheres-by36.jpg' (88 KB)
Download 'dispersion_spheres.jpg' (91 KB)
Download 'dispersion_spheres-glass-by36.jpg' (83 KB)
Download 'dispersion_spheres-glass.jpg' (90 KB)


Preview of image 'dispersion_spheres-by36.jpg'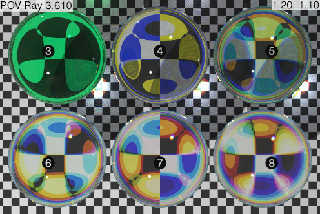 Preview of image 'dispersion_spheres.jpg'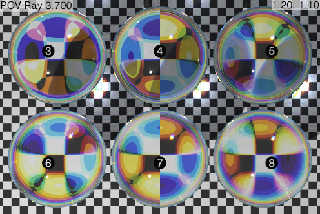 Preview of image 'dispersion_spheres-glass-by36.jpg'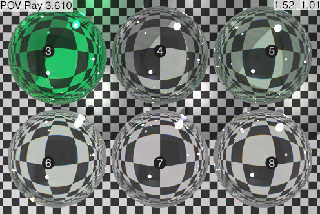 Preview of image 'dispersion_spheres-glass.jpg'